So if you know me, you probably know that I LOVE Halloween.
What better holiday is there for those of us who love to create? No limits.... no boundaries..... you can have ghosts hanging from the ceiling and rats on your bookshelves..... spiders on the stairs and cobwebs on the chandeliers. And best of all -- Sweets, Sweets and MORE Sweets!

So I was a pretty happy camper this week working on a Halloween Dessert table featuring my new
Shindig Halloween Party Printables
.
I made the rounds about town (Hobby Lobby, Walmart, Target, etc.), found my goodies and thought of a plan.....
You must have a plan, you know!

I'm all about a "do-it-yourself-on-a-budget kind of party," so I went to work "do-it-yourselfer-ing." You'd be surprised at what you can find in the grocery store to help a busy mom have a cute party.... Oreo cakesters, fudge covered cookies, Oreo cookie sticks, marshmallows, Ding-Dongs. These things are MADE to help us mommies at "party-crunch time." Make use of them, ladies! Don't feel like you have to make it all yourself.


In fact, I think the only thing I made completely from scratch for this table were the cupcakes, and that was only the cake part -- I cheated on the fudge frosting, too!
So anybody can do this. Really. And your kids will love getting involved, too. I don't know a child out there who wouldn't want to pour a few sprinkles on something!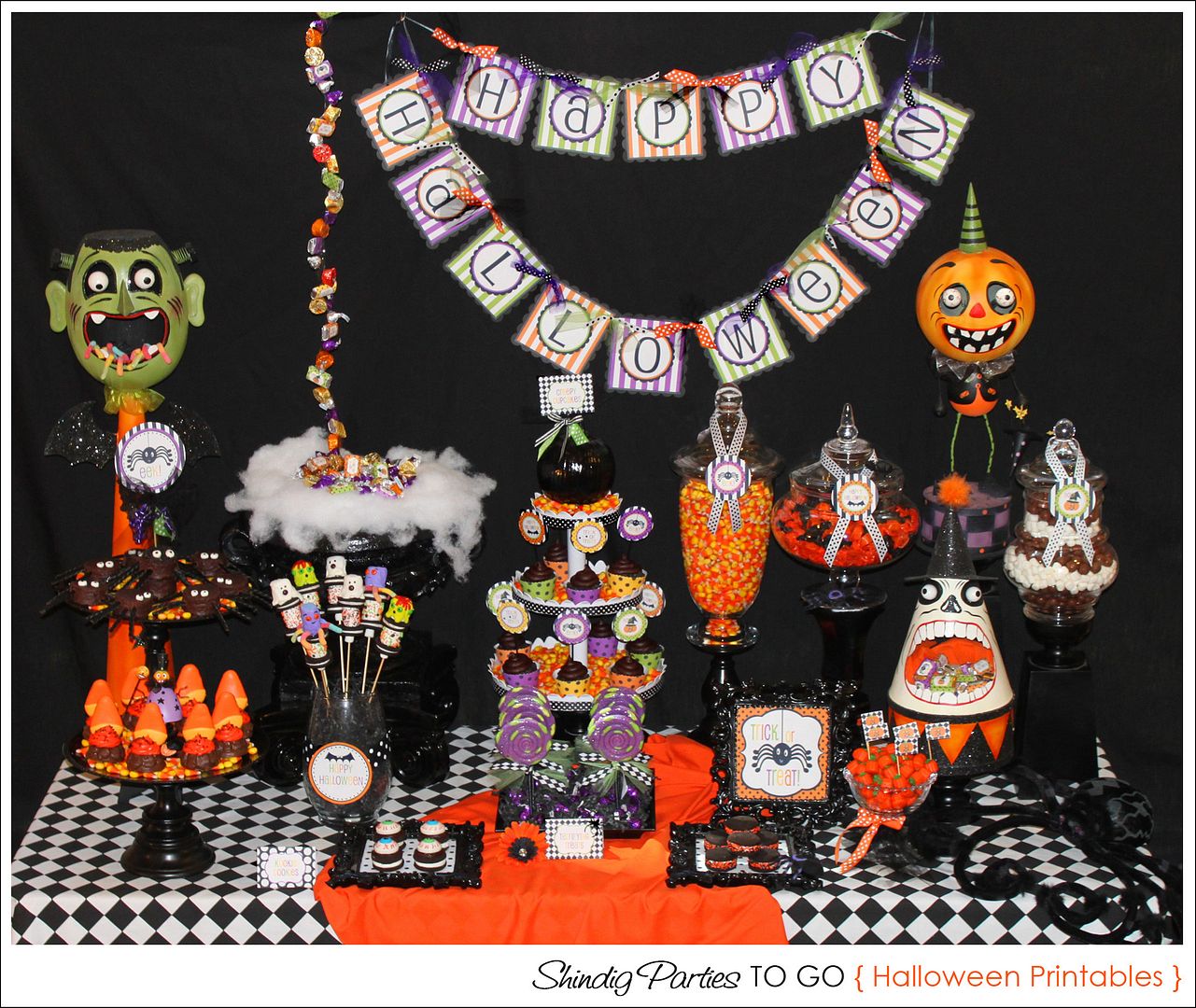 So here it goes..... the
Shindig Halloween Party Table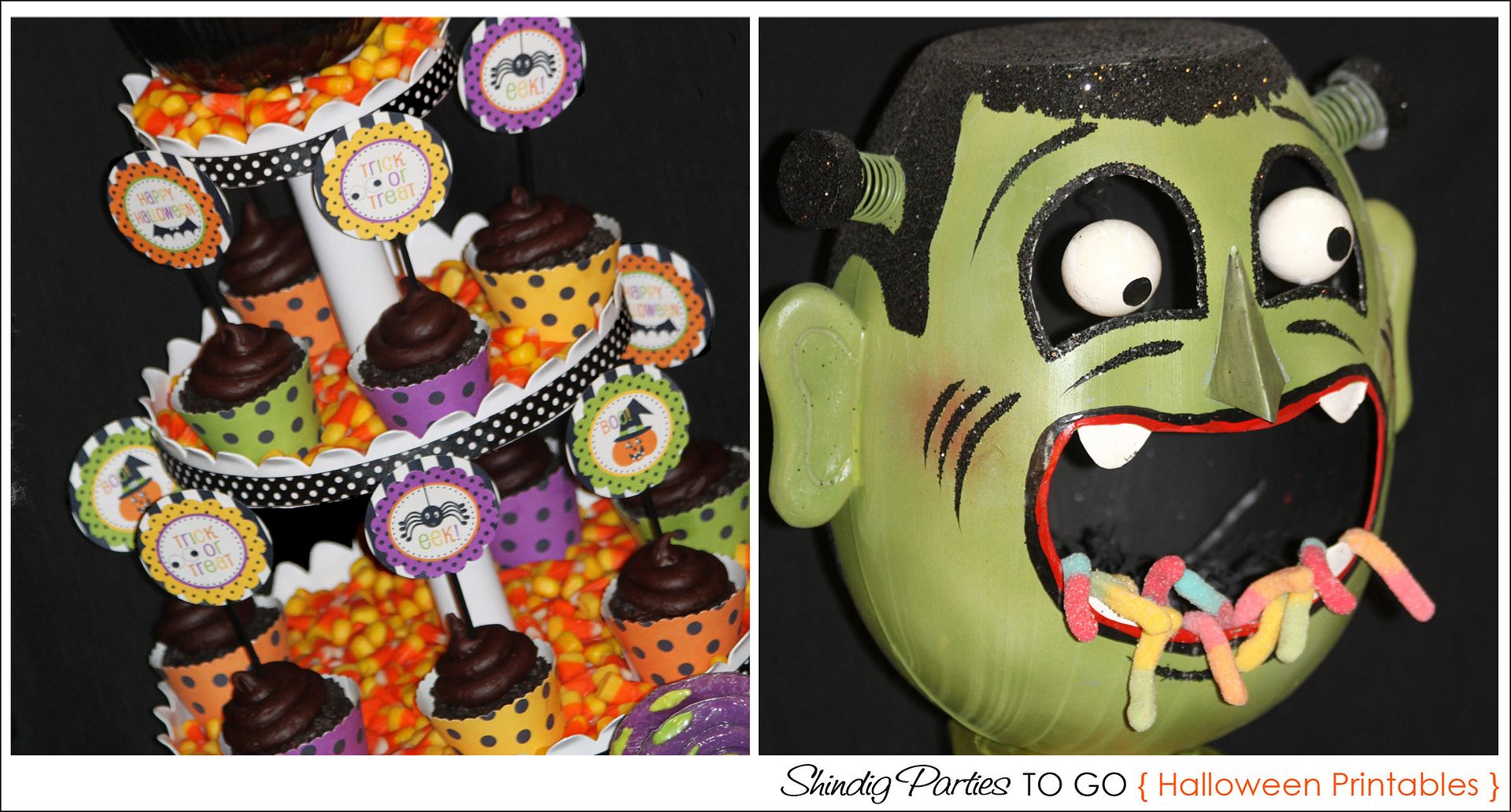 Shindig Halloween Collection 2" Party Logos used as cupcake toppers (punched out with a 2" scallop circle punch). I backed each of these with a circle of black and white stripe scrapbook paper and punched with the next size larger circle punch, glued them to a coffee stirrer and -- Ta-Dah! A cupcake topper!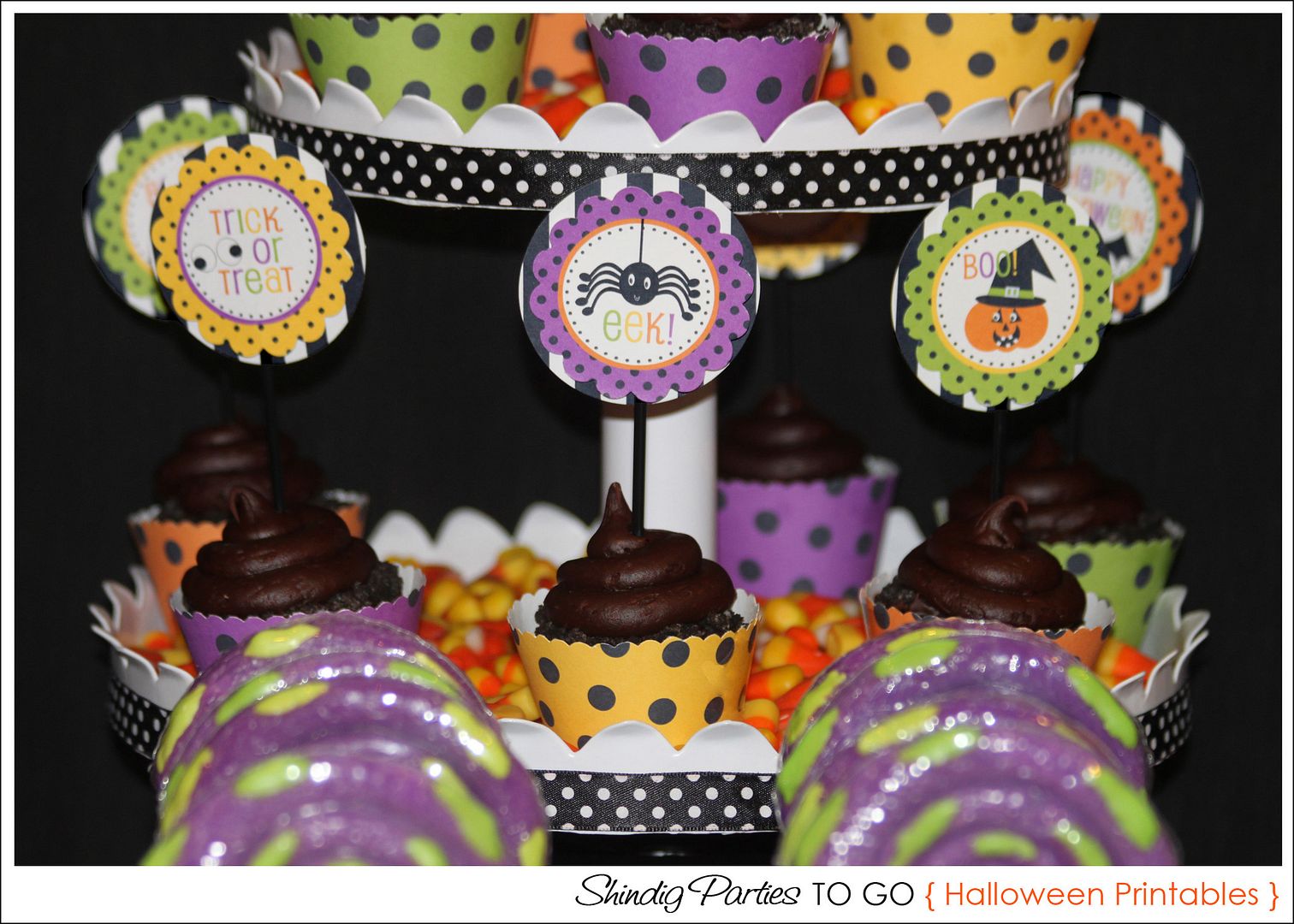 Sweet cupcakes - you can't have a party without them!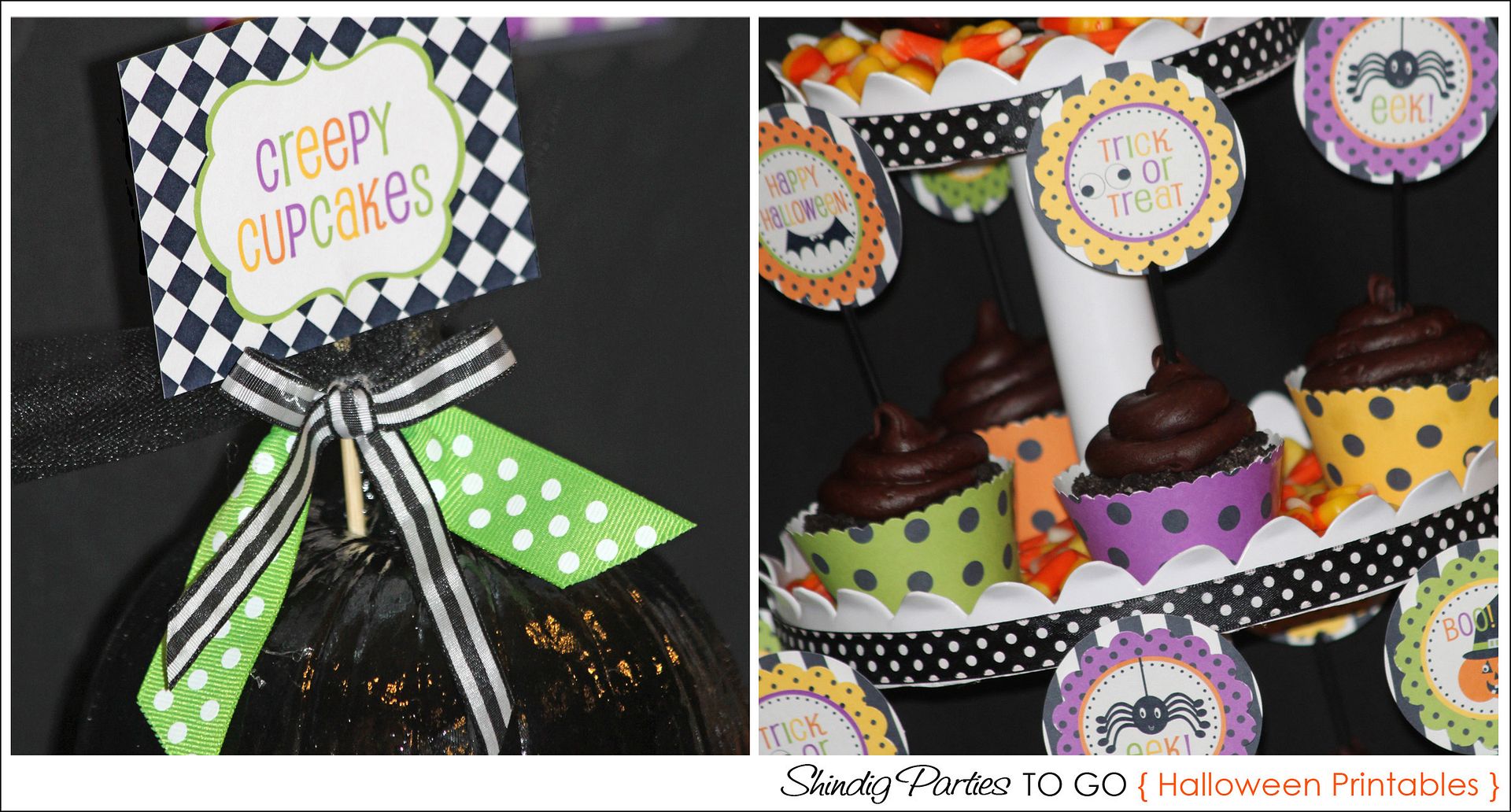 used as a sign on the cupcake stand.
I also cut out some cupcake wraps for the bottom of the cupcakes
out of coordinating scrapbook paper.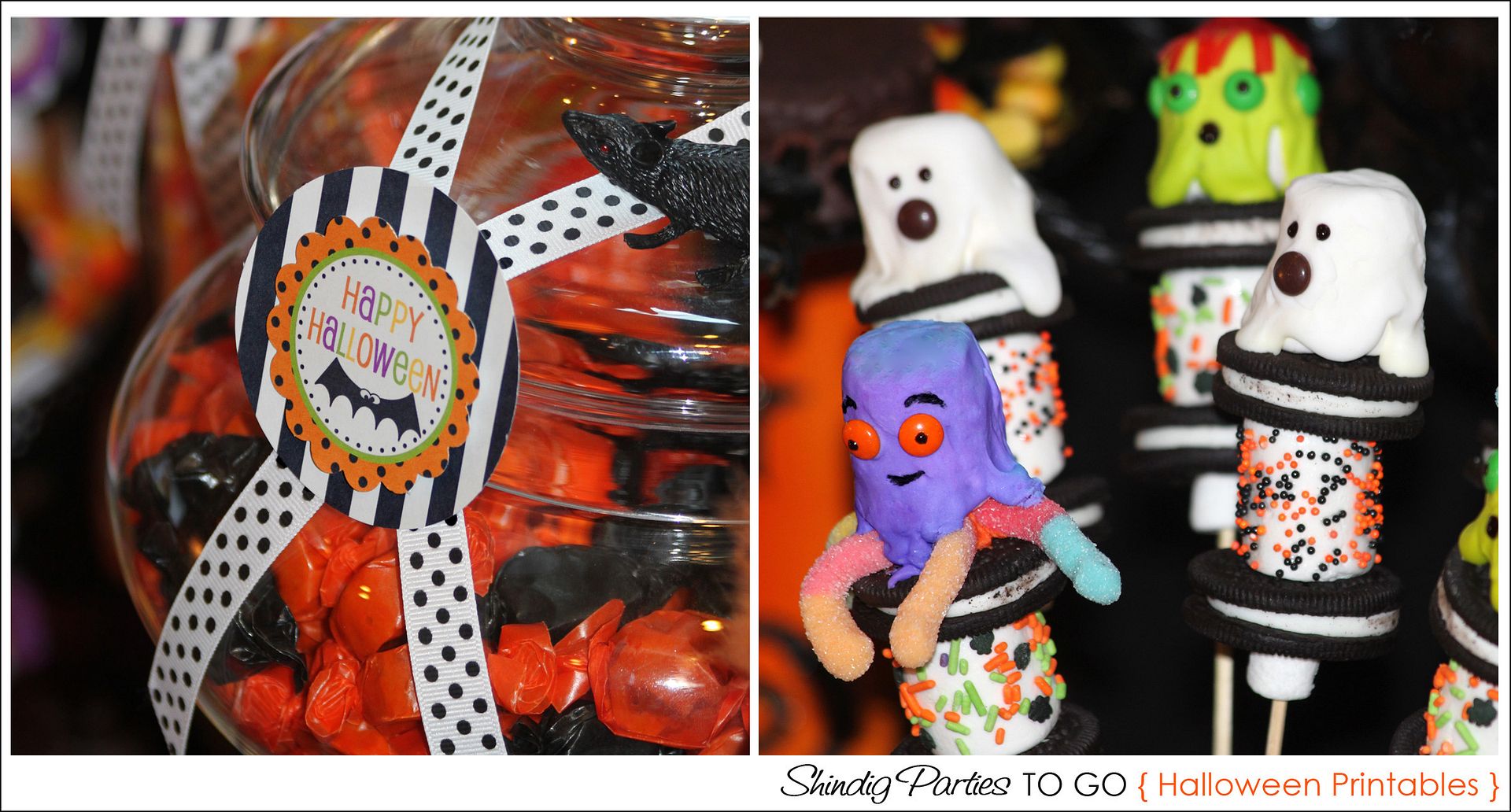 Another 2" Party Logo used as a candy jar label (with a larger punched circle of striped cardstock behind), and those too-cute-to-eat Halloween Marshmallow pops, too.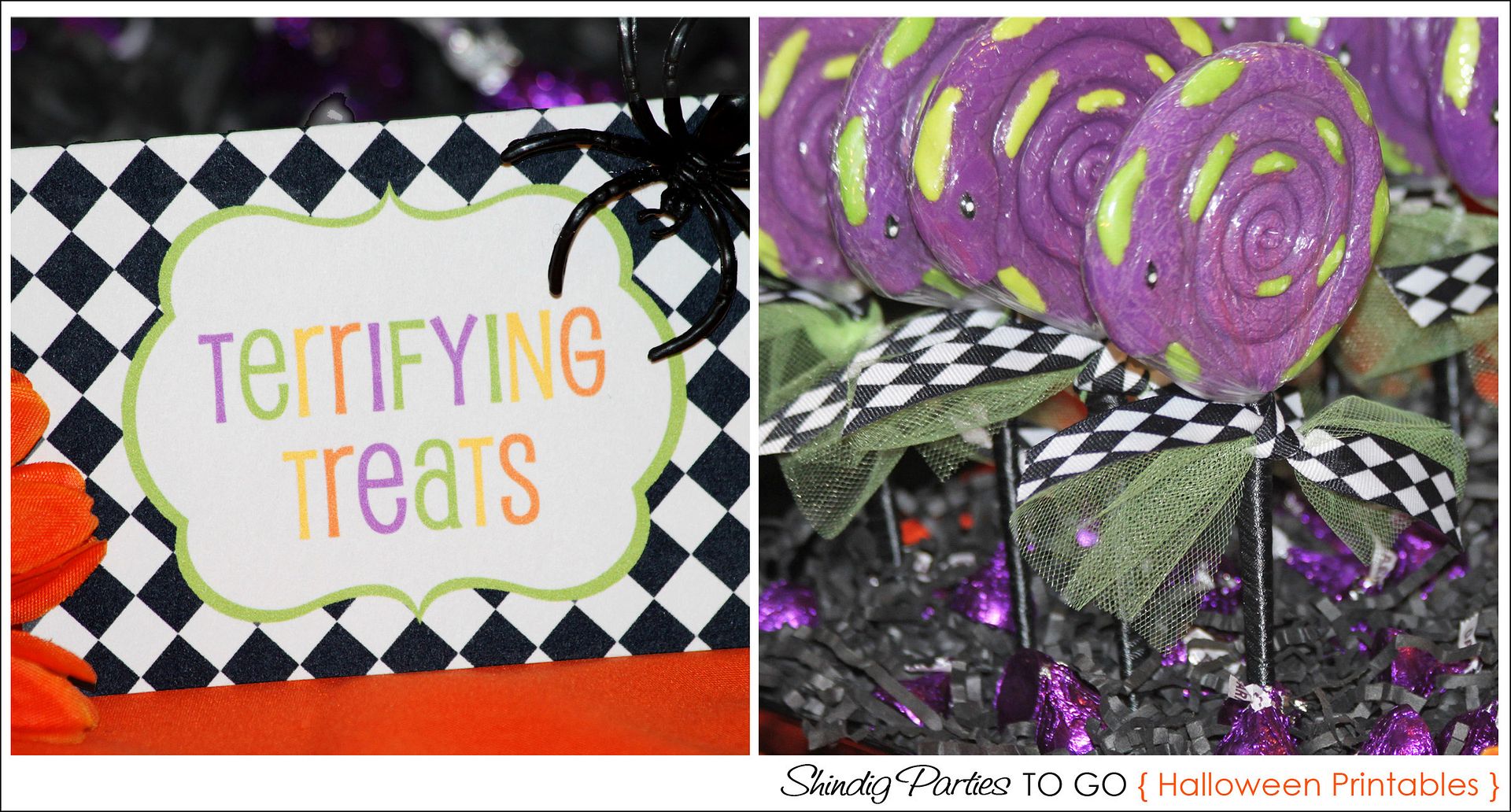 More food labels tent cards and these scary little (or maybe I should say BIG)
snake suckers from Walmart. (I cut a scrap piece of board and placed it
inside the plate, drilled small holes for the suckers to stand in, and covered up
all the mess with black crinkle bag filler and purple foil - dark chocolate - Hershey's kisses).


I found these marshmallow candy corns at Walgreen's individually packaged. I put them on top of fudge marshmallow cookies (that I also bought at Walmart) and colored some frosting (from a can) with orange gel food coloring. Using a disposable decorating bag and a star tip, I swirled the frosting on top of the cookie, add some chocolate sprinkles and stuck the candy corn in with a toothpick. So easy!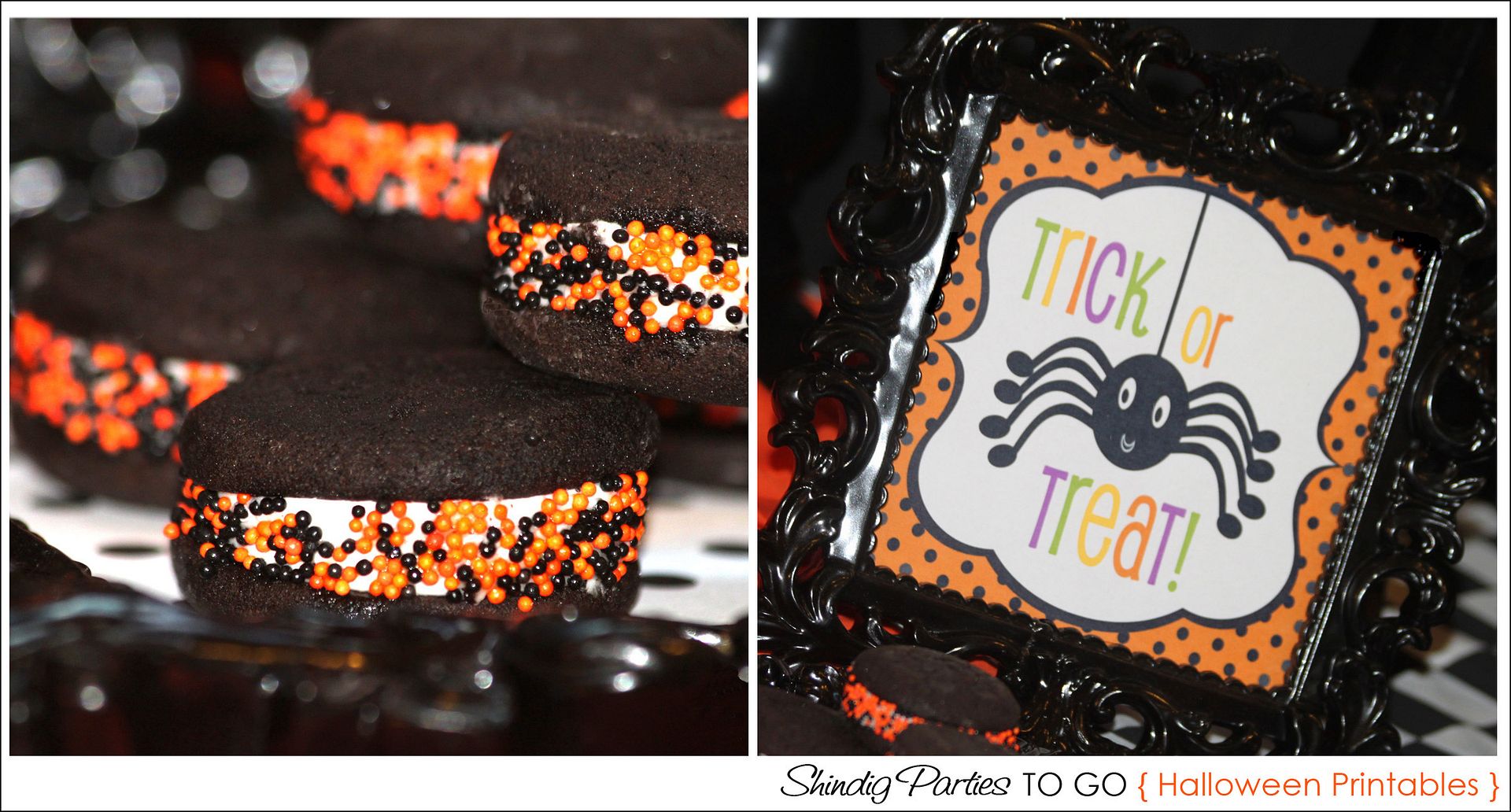 These little babies are just Oreo cakesters (Double stuff) with some Halloween sprinkles for color and the Shindig Halloween Collection 8" Sign that I put in an ornate black frame
My favorite Halloween Trick -- floating candy!! Yes.... floating! Featuring the Halloween Collection's Mini-Candy Bar Wraps (they fit Hershey's miniatures)
The kids around here are fascinated each October when they enter my house
and see the urn full of candy on my foyer table, which just happens to be floating in the air!
They always want to know, "How? How Ms. Amanda did you do that? How? Tell me!!"
I don't ever tell them, but I WILL tell you.
No magic at all -- just Martha!!
(From a Halloween issue of her magazine a few years back -- I tried to find the how-to on the internet and couldn't so if anyone out there has a link, please let me know).
I saw these cute marshmallows in the new Betty Crocker Fall Baking publication at Target. They were featured on top of cut square brownies (also a great idea!), but I like my food on sticks, so I decided to pierce a couple of Oreos and some marshmallows and make these little treats!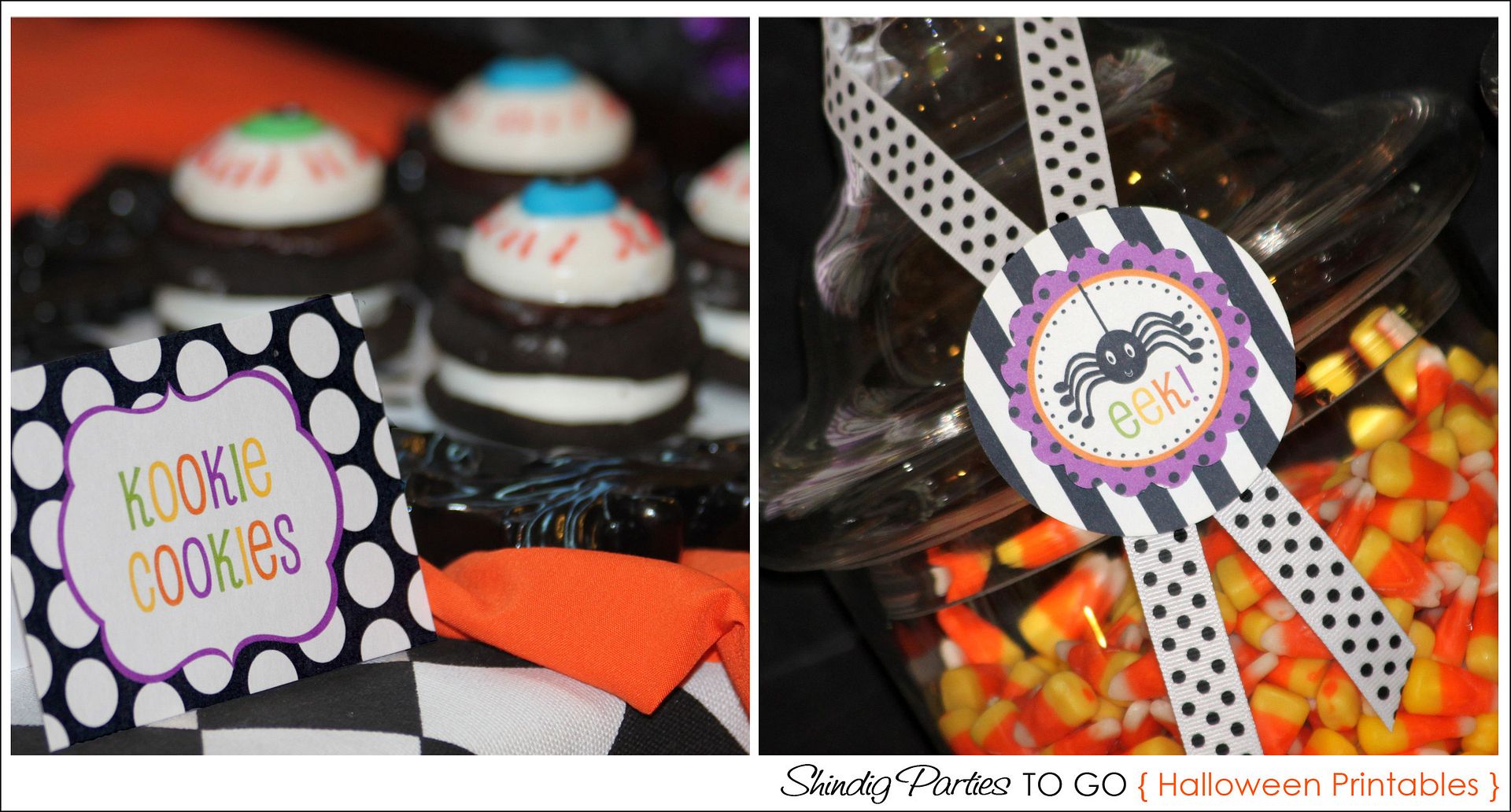 My kids were oooohing over these eyeball cookies. So simple.... just an Oreo chocolate cakester with a little fudge frosting (from a can) on top. I found the eyeballs at the Dollar Tree (6 for $1). They were suckers, but I cut the sticks off and used them to embellish the cakesters.
I'm all about the cute-no-bake-goodies! It doesn't have to be hard to be adorable!

I also used the Halloween Collection's 2" Party Logos for various candy jar embellishments.
Shindig's Halloween Collection 4" circle logo used to decorate the spider plate. Again, the spiders were so simple. Use a Ding-Dong cake, cut a small marshmallow in half for eyes, and cut licorice for the legs. I also dotted the center of the eye with some black gel icing.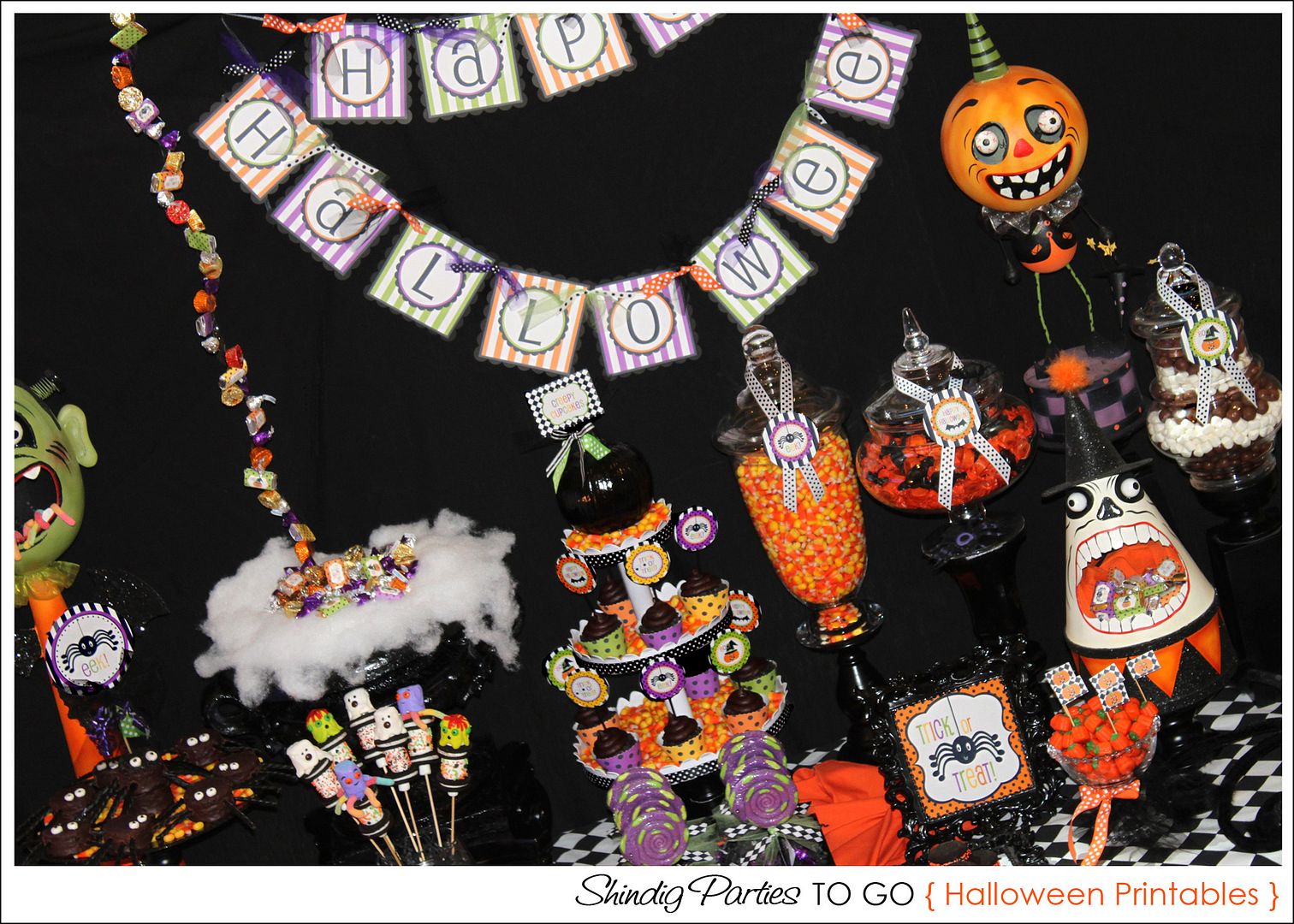 It must have been a success!

I've had all the kids in the neighborhood BEGGING for these treats to eat!
Well, guys, today's the day! Photo shoot over...... Yum-fest begins!
Remember, the Shindig Halloween Collection of Printables
is on sale 40% OFF until October 15th!!
Get it now - time's a-wasting!!!